Welcome to Cub Scout Pack 52!
Rowlett, Texas USA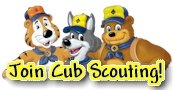 Pack 52 is a member of the Circle 10 Council, Boy Scouts of America. Our charter organization is The Friends of Cub Scout Pack 52 and we are open to all families in our local community.
Cub Scouting is a fun and safe way for boys 1st – 5th grade to experience the outdoors, explore new activities (camping, pinewood derby, Den activities, etc.) and earn recognition for their achievements. Cub Scouting is designed to involve a parent/guardian to ensure a safe and fun experience.
Pack 52 strives for a well rounded and diverse program to engage boys with a variety of interest. The annual program is set by pack leadership which is made up of volunteer adults. If your son is interested in Cub Scouts and wants to explore camping, archery, camaraderie, nature activities or a host of other fun pastimes, please contact the Cubmaster through the contact form on this site.
Feel free to explore our site and learn about the many ways Cub Scouts can help your boy learn new skills and have a blast doing it.