There are two types of uniforms that scouts typically wear: the Class A uniform and the Class B uniform.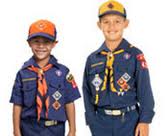 The Class A uniform, which is the formal dress uniform, should be worn to Den and Pack meetings (unless otherwise specified), ceremonies, parades, and outings such as Go-See-It's.
The Class B uniform is reserved for informal gatherings, hikes, and camp-outs.  The Class B uniform consist of pants (no rips or tears) and a Scout sweatshirt or T-shirt.  A Scout shirt is any shirt that has a scout related image and/or printing on it.  The Pack recommends that each scout purchase our official Pack T-shirts to wear at Class B events. This allows the leaders to more easily keep our boys together at multi-Pack events.
The Class A Uniform
The Class A, or full dress uniform varies according to rank.  Tigers, Wolves, and Bears wear a uniform that consists of an official blue uniform shirt, cap, belt, neckerchief with slide and all required patches.  These Scouts should also wear navy blue dress pants (or clean jeans with no holes) or shorts, and dark socks.  The color of the Scout's hat, and Neckerchief varies by Rank (as does the slide):  Tigers are Orange, Wolves are Yellow and Bears are Blue.
Within Pack 52, Webelos Scouts wear the tan/olive uniform similar to the one that Boy Scouts wear.  For the tan/olive uniform, boys wear olive trousers or shorts and official Boy Scout tan shirt with blue shoulder loops.  Official olive socks (with red tops) are worn with the tan/olive uniform.
All Webelos Scouts should wear the Webelos neckerchief (plaid with the Webelos emblem), Webelos neckerchief slide (handmade slides are also acceptable), Webelos cap, and Webelos belt buckle.
Where to purchase Scout items?
A directory of area Scout Shops can be found online at the Circle Ten Council website.
Purchase Online