Why Join Cub Scouts?
For the boys, the answer is "Fun"!
For your son, Cub Scouts is a place to mix and have fun with other boys his own age. It's a safe place, dedicated to the ideal that having fun is about good sportsmanship, good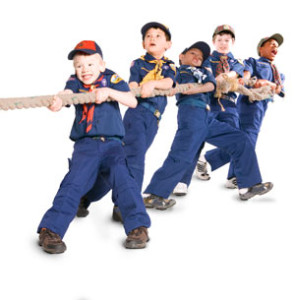 attitude and doing your very best.
He may get to do some things with you that you might not have otherwise have done together … things like visiting a fire station or TV studio, building a Pinewood Derby racer, or learning to shoot a bow and arrow, slingshot or BB gun.
And each year he'll be challenged by new and exciting challenges. For first graders, it may be a craft that he's never tried before. For older boys, it may be something like driving a nail without driving your thumb … or doing chores around the house … or putting down the Nintendo to identify leaves in the woods … or maybe even being away from home for the very first time, without Mom and Dad.
Sound like fun to you?
For the Parents, the answer's a bit longer.
Cub Scouting is all about fun.  After all, we're all volunteers here … and if we weren't having fun, all of the adult leadership that makes Scouting run could find other ways to be short on our sleep.  But ever since it's creation in 1910, Scouting has been about Fun with a Purpose.
The fun activities your sons will enjoy are built around supporting the 10 Purposes of Cub Scouting, purposes that will build valuable skills and character traits that will serve your sons for a lifetime.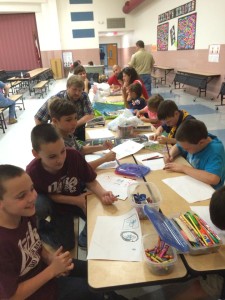 These 10 Purposes of Cub Scouting are:
Character Development
Spiritual Growth
Good Citizenship
Sportsmanship and Fitness
Family Understanding
Respectful Relationships
Personal Achievement
Friendly Service
Fun and Adventure
Preparation for Boy Scouts
And though them, Cub Scouting teaches:
Building self esteem through accomplishment
Trying and learning new skills
How to get along with others with different (or similar) backgrounds
Physical fitness
Citizenship in the community, nation and world
Cheerful Service to others
"Do Your Best"
One of the unique things about Cub Scouts is that all we ask of our members, be they youth or adults, is that they do their best … whaever their best happens to be.
It doesn't matter if you're the most scholarly or the least, the most outgoing or the shyest, the most athletic or not. Whether you do fifty push-ups or maybe none at all … if you worked up a good sweat while trying, you're the kind of guy we're looking for.
What Cub Scouting is all about:
No matter when you join, to earn your first badge as a scout you have to learn the following items.  They sum up what Cub Scouting is all about …
The Cub Scout Motto:
Do your best.
The Cub Scout Promise
I, [the Scout's name], promise
To do my best,
To do my duty to God and my country,
To help other people,
And to obey the Law of the Pack.
The Law of the Pack
The Cub Scout follows Akela.
The Cub Scout helps the Pack go.
The Pack helps the Cub Scout grow.
The Cub Scout gives goodwill.
For more information on the Cub Scout Program
Please visit the following site:
http://www.scouting.org/CubScouts.aspx
To get more information about joining Pack 52, contact the Cubmaster.